About Us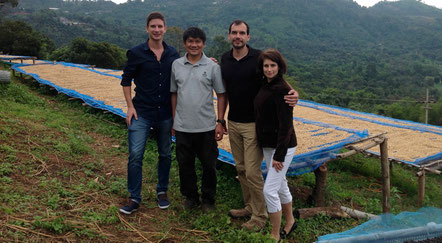 Thai Coffee Trading specialize in sourcing and importing Thai specialty green coffee direct from our farms in northern Thailand and distributing them to artisan roasters and coffee enthusiasts in Germany and throughout Europe.
Since our inception in September 2014 we have gained a wealth of knowledge and experience in trading commodities from Thailand. We are now considered a leading supplier of high quality, single origin arabica from northern Thailand with the emphasis on quality over quantity and the integrity of giving back to the local communities.  

Our Mission
To be the pioneer in bringing Thai specialty arabica coffee to Germany and to consistently supply our esteemed customers with premium quality coffee using  eco-friendly logistics.
To provide more exposure for Thai coffee within Europe and to educate consumers on its outstanding attributes by establishing wider distribution channels on the international market.
Commitment to continuously source only the highest quality Thai single origin coffees at affordable prices.
To consolidate our direct trade agreement with our current farms and to support northern Thai hill tribes with knowledge, techniques and marketing skills to enable sustainability for the farmers and commitments with workers for social development.
To conduct business with ethical people that have true integrity and the best interest of the growers at heart.